In the archives from the past six years of stories are hundred of photographs of knitters and their needles, taken throughout New England and beyond. From on the road visits with yarn shops and fiber mills, to fiber festivals, Stitches East, VK Knitting Live, yarn tastings, association meetings. Not to mention people found knitting at farmers markets, re-eanactments, baseball games, quilt shows, fairs and other events. With all the choices available (and seemingly no slow down in the roll out of new products such as needles that light up in the dark), what do knitters actually reach for when they pick up their work in progress or cast on?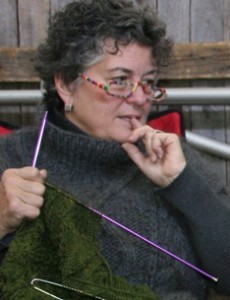 One solution, simply ask, then listen and report. Along the journey, highlight which manufacturers are superb to work with and great with customer relations.
With a personal preference for circular knitting needles and the pointiest tip possible, weight also matters. Some are pretty, but when cable joins pop off and work in progress slips, utter frustration results. Asking about preferred needles yielded surprising comments and high praise for a certain brand of high-tech masterwork tools that allow for precise stitches. But more about that in a bit.


This is ongoing fieldwork research driven by pure curiosity, so not all brands are represented. Yet. For a general comparison, stay tuned for a showcase of favorites – along with selections of yarns plus particulars about the whys and wherefores. To add your opinion or suggest a product, call (860) 573-6181 or e-mail the editor at editor@moodogknits.com.