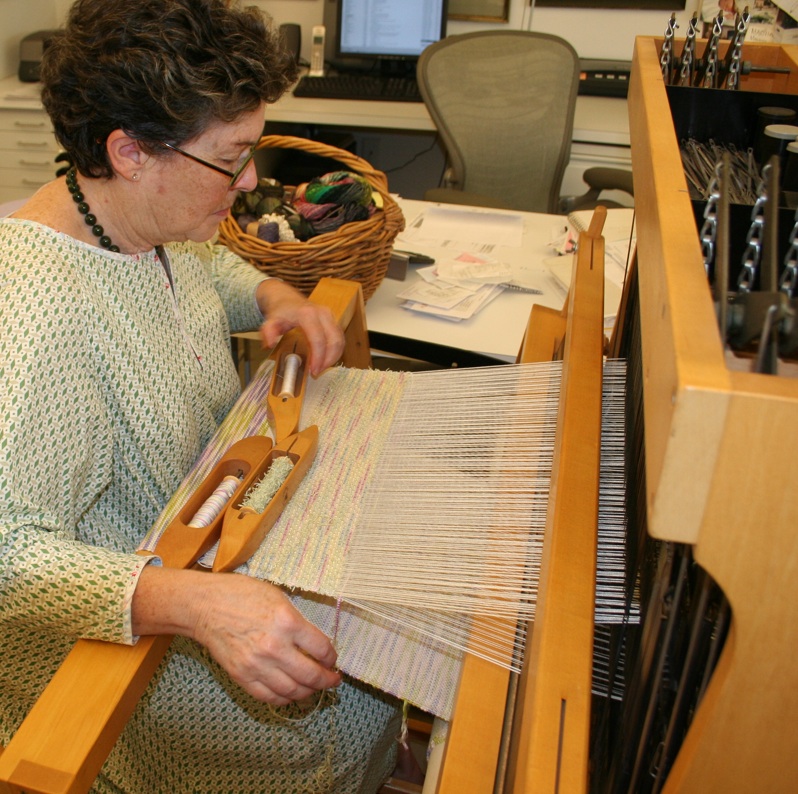 Inside the studio of Martha Burns, shuttles flash to and fro creating a pattern with time and effort. Burns is an architectural, interior and textile designer and believes in empowering people of all ages to achieve creativity.

After years of living in Italy working as an artist for a Swiss textile company, she founded The Studio of Martha Burns LLC in New York City for architectural, interior, textile and product design and development. "Then I decided it was time to get out of the city and build my dream so that I could weave and sew and teach. I had been in New Haven as a student at the Yale School of Architecture, so I knew the area. It made sense." So in 2002, she made the move. Other facets of her abilities as a knitter, gardener, cook, and teacher – began to grow as well.
"Sewing has brought me so much pleasure and challenged me creatively that I want to share that with others. I want to demystify the process and make sewing enjoyable."

It was about 5 years ago Burns started teaching sewing as a process to 5 to 13 year olds at the Eli Whitney Museum and Workshop, an innovative center that is about learning by doing, exploring by making things – from boats to simple machines and engineering with fabric, otherwise known as sewing."At the time, one of our board members found a way to get 12 sewing machines donated. From there we have taught sewing to hundreds of children," she explained. "They have no inhibitions, so to watch them create something and learn is just incredible."

Then parents approached Burns and wanted to know if they, too, could learn sewing.


SMB Stitches, spun out of The Studio of Martha Burns LLC. "If it can be made with thread, fiber, fabric, we do it," she said. "The joy is sharing and teaching this with others. If people have the tools and are not intimidated, then I think anything is possible."


"People leave the studio with their first project completed and tell me they feel they can do anything. Creating has to be fun – or why bother to do it?"


Note: Kits with pre-cut pieces and diagrams for how to put it all together are being added to the SMB Stitches site.