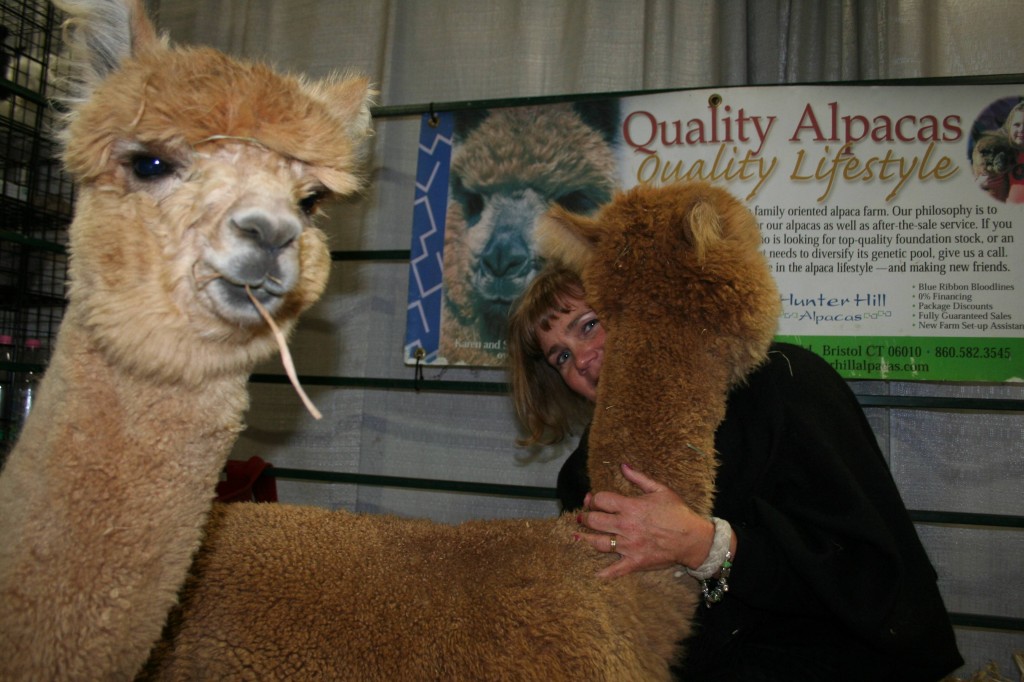 That's Karen Gallagher of Hunter Hill Alpacas in Bristol, Connecticut – who also was featured on the back of the Fiber Festival of New England program in a photograph taken some 5 years ago when we first met – due to a spectacular leather-and-alpaca bag and an interview for a corporate business magazine. The profile (but not the image) was lost in the transition between publishing mergers and a subsequent buyout. Yet, in a quirky coincidence, as I walked into the Mallary Complex to cover the Fiber Festival of New England, the first person met was Jeremiah Squier – who with Rick Trojanoski owns Twist of Fate Spinnery fiber processing mill and livestock equipment supplies business. Jeremiah's knowledge proved to be the bridge connecting past to present – and led to several great introductions – in Karen's case, a re-connection.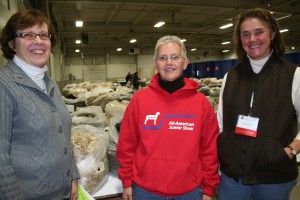 An assortment of hoped-for future stories and images include: The story about youth and agriculture at the Northeast Youth Sheep Show; an entrepreneur whose business card lists her role as "shepherdess and spinner"; re-visiting Hunter Hill Alpacas; and the history and lore behind a lifetime collection of spinning wheels and fiber tools.

Later, as I walked happy miles around inside the warm complex, listened to exhibitors, volunteers and shoppers to collect interviews, what was most impressive is the number of folks finding a way to do what they seem to love with dedication and hard work.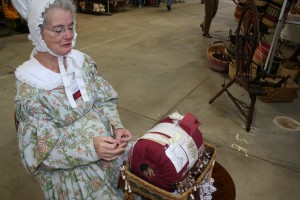 A lacemaker who taught herself the how-tos from a book – and brings the wealth of her knowledge and travels doing demonstrations at Storrowtown Village Museum at Eastern States Exposition. (See for yourself at an upcoming holiday event there, Dec. 5 through Dec. 10.) The comments from a crowd around Gary Avanzato of Fine Handwovens as he explained the process of a pattern-setting peg-and-dot mechanism on his Louet loom.
I met entrepreneurs and farm owners and businesses connecting to people – with all sorts of social media, at events, or using the time-tested face-to-face method and a handshake.
As a personal note, the choice to report and cover the event was made possible by one person who shall remain unnamed by his own request – who cut and stacked brush, tree limbs and debris all day – freeing this editor to cover the event.
"If you follow your bliss, you put yourself on a kind of track that has been there all the while, waiting for you, and the life that you ought to be living is the one you are living. Wherever you are — if you are following your bliss, you are enjoying that refreshment, that life within you, all the time." – Joseph Campbell
(And no one ever said there wouldn't be blisters along the way.)

Kudos to all who find a way to do what they love.