Knitting is time and circular in more ways than one. A vintage knitted sock toy was found on a long-ago yard sale expedition. Carefully hand-stitched and stuffed with what appears to be fleece, someone made this with care.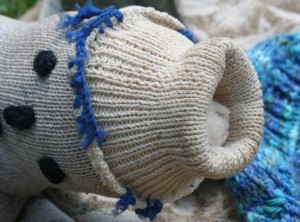 It deserved more than to be thrown out – which was going to happen as unsold remnants were gathered to be hauled off. Nothing is known about who made the toy, nor who loved its soft and huggable body. I asked. "That's old," was the comment as the transaction was made. The cast-off plaything found a place in our home, a jaunty red hat on the timeworn head.


We're waiting for Eli. It's July and his birth is imminent.

As ends woven in to complete a Debbie Bliss baby shrug (free pattern linked here on Ravelry), my needles swatch for a matching baby hat in progress. The cowboy sock toy needed repair and was popped into my work tote. While sewing up side seams (tedious) and swatching (better), thoughts drift in and out of summers past and present. More than two decades ago, the father of the small human expected soon was but a youngster himself – and tag sales were a favorite quest. The goal? Hunting as many clocks, radios and small machines that could be had for a jangle of coins in his pockets.

The baby shrug for his impending son – in 3 to 6 months size – is almost wearable. Knitting with Winnifred's Washable, hand-dyed American-made yarn in a variegated Rhythm N Blues colorway, 55 percent Merino and 45 acrylic, is soul satisfying. Made in the USA according to the label. The sock cowboy keeps us company, a mute testimonial to someone's artistry, knitting and love – preserved and shared. I knit and think and walk and wait.