Be brave; knit more of what you like.

Work with yarn you love. This knitted edge detail of a third sweater variation knit of Noro Hanabatake yarn (55 percent wool, 35% silk 10% mohair) also features a keen-eyed Boston terrier looking on. The fitting was done on a cool day after a rain when the air was washed clean.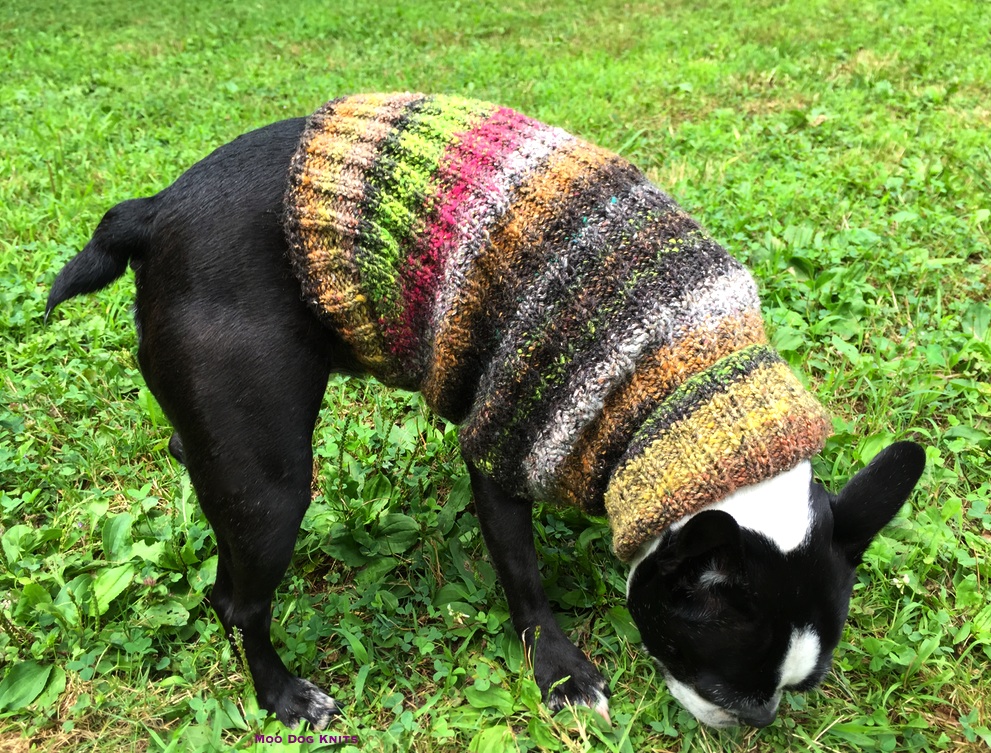 That weather did not last, but it's August. The natural light outdoors is simply a wonder. Roadside chicory blooms to outdo the summer sky overhead; Queen Anne's lace provides a perfect complement. Pet rabbits enjoy the carrot-y roots of the latter. In the Deep South, chicory is roasted and ground to blend with coffee – there are commercial brands that can be bought right off the grocery store shelf. While knitting, time and memories shuttle back and forth from places lived and visited. The Florida panhandle, tropical heat and humidity. Fort Pickens. Seville Square. In Pensacola, a coffee shop called The Bean and Leaf – which had incredible coffee, espresso, mocha java – long before the current explosion of coffee everywhere and all the time. As the front door opened, a plant in a hanging pot at the back of the store would go up and down, seemingly by magic – but was cleverly attached by a nearly invisible mechanism to the door opening and closing. Hot strong coffee and a thin slice of excellent cheesecake and other toothsome desserts were the draw after touring historic sites nearby. Once after seeing a quilt show exhibition.
So how to know when you're done knitting and the garment is finished? When the knit fits, and all details are pleasing to the eye.

"The secret to happiness is freedom, and the secret to freedom is courage." – Thucydides